Orphaned: Siblings cling to faith, music after loss of both parents
Keren Bunnell was an unlikely candidate to be standing before the judge. The oldest of five, she showed early signs of being momma's helper. The daughter of a Navy Lt. Commander, Keren was raised in a strong Christian home, her mother a symphony conductor of sorts who meticulously orchestrated all aspects of her children's lives: homeschool, music lessons and family outings.
Yet there the 21-year-old stood before the bench, her attorney at her side. She noticed the judge carefully scrutinizing her as the attorney issued a plea on her behalf. The counselor ended his remarks. The judge sat silent, pondering his decision.
"I was very nervous and had no idea what to expect," Keren said. "The courtroom and the judge were both very intimidating, and if our lawyer hadn't done all the talking I probably would have squeaked and stammered my way through the whole thing."
As the judge spoke, the courtroom fell silent. Even a fussy baby held back her cries.
"My breath caught in my throat and stayed there," Keren said.
After watching a parade of bitter, angry defendants inside the courtroom and the judge's blunt and impartial responses leading up to her case, Keren was surprised when the judge modified his tone for her, praising her courage and strength.
"I grant your petition and I whole heartedly wish you good fortune in your lives," the judge said as the gavel slammed to the bench.
Karen turned toward the gallery and was mobbed by her three sisters and brother, ages 15 to 19. She was now their legal guardians.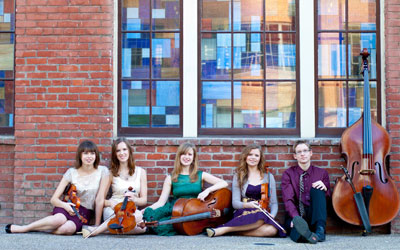 Only a few weeks earlier, the Bunnell siblings found themselves orphaned teens after their mother, Julie, died of colon cancer, her diagnosis coming just a year after their father, James's protracted battle with melanoma. Throughout the process, the siblings, already tight because of their upbringing, wedged a formidable bond. Still, there was uncertainty about their future, something Keren was cognizant of as she approached family court that morning.
"Standing in a huddle before the imposing, red-brick building, I realized that for the past month, the five of us had wandered like sheep without shepherds, confused and bewildered," the young matriarch said. "After years of living in a safe, secure, homeschooled environment, we suddenly found ourselves quite alone in the world."
With their parents gone, the responsibility natural fell to Keren, now 25.
"She is the bravest, strongest, and most amazing woman ever," said Corrie, 22, the middle child. "She took care of all the legal and financial stuff and met with our lawyer and financial adviser on a regular basis for months and months after our mother's death. … She became almost like a mother to all of us.  We brought all of our problems to her. Even now, we still go to her for advice on practically every topic."
The tight-knit family lived in Eastlake, where their disciplinarian mom taught them at home and ensured they were trained on the violin, while their prankster dad, a veteran of Desert Storm and Operation Iraqi Freedom, infused the home with humor.
When the children were smaller and dad was stationed in Pensacola, Fla., he warned his children to be careful around the region's large mosquitoes, which he dubbed "fluzzadillos," saying they feasted on small children. His teasing made them giggle.
James also demonstrated how to be kind, faithful, hard working, responsible and reliable, but was cherished for the lighter diversions he brought to their structured home.
"Whenever we watch the movies we watched as kids, I can remember every part my dad used to laugh at and in my mind I can still hear his laughter," Keren said.
Because of the typical military commitments of duty days, deployments, and long work days, their father was rarely home.
"But when he was, 'oh my gosh," Corrie said. "All of us fought over who got to go to Home Depot with him, who got to go out on the daddy-daughter dates, who was gonna make him breakfast."
As the only son in the home, Ross, now 18, said his father's 6-foot, 5-inch stature "always made me look up to him with all the more respect.
"I only spent my younger years with him and unfortunately I don't remember a lot of things but I do remember him as a loving and caring father who was always willing to help me with school or baseball," Ross said.
When their dad was diagnosed with skin cancer in 2004, their parents worked hard to shield the children from the experience.
"I was pretty young, maybe 9, so I wasn't very aware of what was going on, said Cara, now 20. "Mom simply told us that dad was sick, and whenever dad did something weird, she said it was his medicine."
It wasn't until he was hospitalized after a seizure that Keren began to understand just how sick he had become.
"He and mom were both crying—something they had never, ever done in front of us before," Keren said. "It was a very traumatic moment for me because I couldn't imagine life without my dad."
Three years after his diagnosis James passed away.
"I remember it being a tense time, and things changed, as we didn't do as many activities together then," Ross said of his father's illness and death.
A year later, as they were still processing their grief, their mother developed colon cancer.
"When dad had cancer, Mom talked with him, took care of him, brought him to appointments, and basically did everything," Keren said. "This time, she had no one to lean on but us. We saw everything, knew about everything, took care of everything. I would say that those were the hardest years of my life."
The home that had been filled with music took on a different tune.
"My entire teenage years were filled with the word cancer and the pain that word would come to mean to my dad, my mom, my siblings and myself," said Kimberly, now 23. "When our mom was sick, it never occurred to me that God would take her home as well. To me, that was the impossible. We couldn't survive without her. When He did take her home, it was very unexpected to all of us."
Before her death, Julie worked with her oldest daughter to ensure the children could keep the family home, training her on how to take care of the bills.
"Even after her death, we learned more about her and what she had sacrificed for us that it is sometimes beyond believable," Corrie said. "I only hope I can someday be half the mother she was."
With their financial security in place, thanks to their parents and the judge, the siblings turned to their faith and their common interests as they tackled their grief.
"We had very few close friends and no nearby relatives, so we depended on each other for advice, moral support, and comedic relief," Keren said.
They backpacked sections of the Pacific Crest Trail from Mexico to the Anza-Borrego Desert and trained to run a marathon, but it was their music, as the performance ensemble The Bunnell Strings, that kept them in harmony. Last year they toured the East Coast and in August they will take their act to Norway.
"Music was one of the factors that kept us close together and brought us opportunities that we would never have had had otherwise: music scholarships, tours in different states," Keren said.  "But if I had been an only child, I'm not sure how I would have survived."
Ross agreed, saying music served as a centering point for him.
"Music helps take my mind off of problems that I am dealing with and lets me just have fun and enjoy the time I get to play with my siblings," Ross said. "It also, surprisingly, helps me remember things or brings to mind things I need to address in my life."
Even with the music, Kimberly admits the journey has not been easy.
"Bitterness creeps up very easily inside from the grief and pain and I have to constantly remind myself of the many blessings God has given me through my mom and dad," Kimberly said. "I would be completely lost without God and there is no way I could live without Him."
And while there were moments of real-world uncertainty, each of the Bunnell children stood firm on the biblical foundations instilled by the parents and their personal relationships with Jesus.
Invariably, the double tragedy of losing their parents shaped their teen and young adults years, yet they refused to let it corrode their faith.
"Why in the world, in a time when you need God so much more, would you turn your back on him and blame him for everything that is happening?" Corrie offered. "God knew exactly what was going to happen from the start and he orchestrated everything."
By Lori Arnold